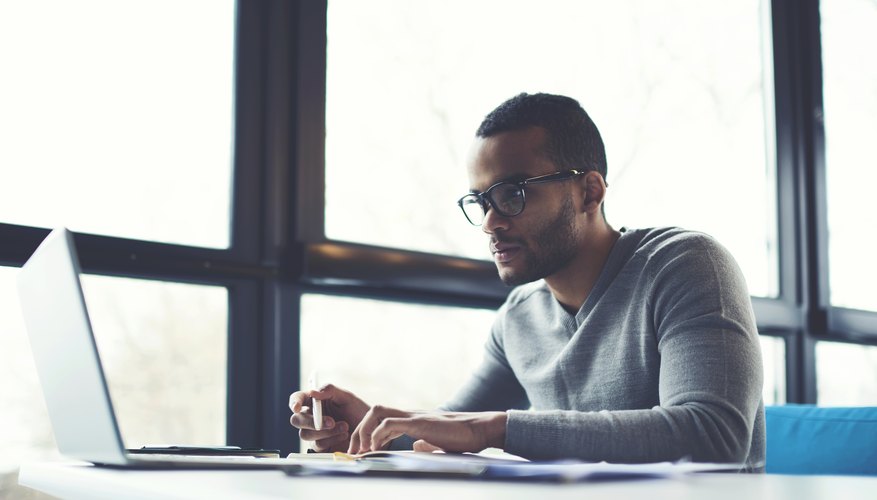 Respiration, a chemical reaction that releases energy, is essential for all life forms. Aerobic respiration occurs in three stages: glycolysis, Krebs cycle and electron transport chain. To understand the Krebs cycle, it's important to understand the respiration process as a whole, and the difference between aerobic and anaerobic respiration.
The Respiration Process
Plants respire constantly, making amino acids from sugars and other nutrients to form the proteins they need to stay alive. Humans, animals and birds need energy to move and maintain a steady body temperature when their environment is colder than they are. Respiration involves a series of reactions powered mainly by glucose (fats and proteins are also used), which is oxidized to create carbon dioxide and then synthesized to give cells energy in the form of adenosine triphosphate (ATP). Don't confuse respiration with breathing: respiration releases energy, while breathing lets air into and out of your lungs.
Aerobic vs. Anaerobic Respiration
Aerobic respiration uses glucose and oxygen to produce carbon dioxide and water as waste. Aerobic respiration happens continually in the cells of plants and animals, with the reactions taking place inside tiny objects within a cell, known collectively as mitochondria. This is where glycolysis, Krebs cycle and the electron transport chain occur.
Aerobic respiration releases 19 times more energy than another type of respiration, anaerobic respiration, from the same amount of glucose. While aerobic respiration happens at all times, anaerobic respiration happens during short-exertion, high-intensity movements, such as heavy weight lifting, sprinting and jumping. Anaerobic respiration does not require oxygen because much less energy is released and glucose is not completely broken down.
The Krebs Cycle
The first stage of aerobic respiration, glycolysis, relies on enzymes to break down glucose, releasing energy and pyruvate. This is followed by the Krebs cycle, also known as the citric acid cycle or the tricarboxylic acid cycle. The Krebs cycle takes the molecules of pyruvate created during glycolysis to produce high-energy molecules of NADH, flavin adenine dinucleotide (FADH2) and some ATP.
When the pyruvate molecules are formed prior to the Krebs cycle, they are converted from three-carbon molecules to a substance called acetyl-coenzyme A, or acetyl-CoA. At the beginning of the Krebs cycle, acetyl-CoA combines with a four-carbon acid called oxaloacetic acid to make a six-carbon acid called citric acid. Citric acid yields a series of conversions, involving up to 10 chemical reactions triggered by enzymes. In one of the reactions, high-energy electrons are discharged to nicotinamide adenine dinucleotide (NAD). When the NAD molecule attains a hydrogen ion, it reduces to become NADH.
In another reaction, flavin adenine dinucleotide (FAD) acts as the electron acceptor and picks up two hydrogen ions to become FADH2. NADH and FADH2 are important compounds for the final stage of aerobic respiration, the electron transport chain (also known as the cytochrome system), where they give their electrons to proteins and release energy. At the end of the Krebs cycle, oxaloacetic acid is produced, which is exactly the same as the oxaloacetic acid that begins the cycle, and the process starts all over again.
When anaerobic respiration occurs, there is no oxygen to act as the final hydrogen acceptor. This means neither the Krebs cycle nor the subsequent electron transport chain takes place.